"Irreparable Damage" is the debut album of Asshole Galaxy - a band of two angry artists really mad at all the assholes ruining the world, channelling some music through.
"You're wrong [...] I said quietly. "I'd love to have access to all this shit you believe. I'd love to be able to summon someone who's responsible for this fuck-up of a creation. Because then I'd be able to kill them. Slowly."
--Richard Morgan
Angry artist #1: Weldroid. The 8-bit emulation of an electrical engineer, a cgi artist and a coffee connoisseur merged into one person and left alone in the middle of a forest in the middle of a forgotten peninsula built of discarded and ancient electronic devices and lots of copper wire. Those little robotic things living in the forest tend to like the noises he makes...
Angry artist #2: Jeremy Rice. Boston-area lover of synthesizers and synth music, striving to make his own electronic music with a curious sense of introspection and mystery. As Abdicant and Curious Inversions he has notable releases on Kahvi Collective and Mahorka. Also in Cognition Delay with Paul Alexander (Pandacetamol, Fluffy Inside) on Rednetic and in The Hive Projectwith Anthony Paul Kerby (The Circular Ruins) on DataObscura.
"When you feel terrible about the unnecessary loss of life, value and sanity: get together with a friend, establish a band, make some noise. Somehow turn that murderous frustration into waveforms. [...] not the last time you hear from us." --Weldroid
Released 22.11.22 as free (cc) download and special digipak CD edition.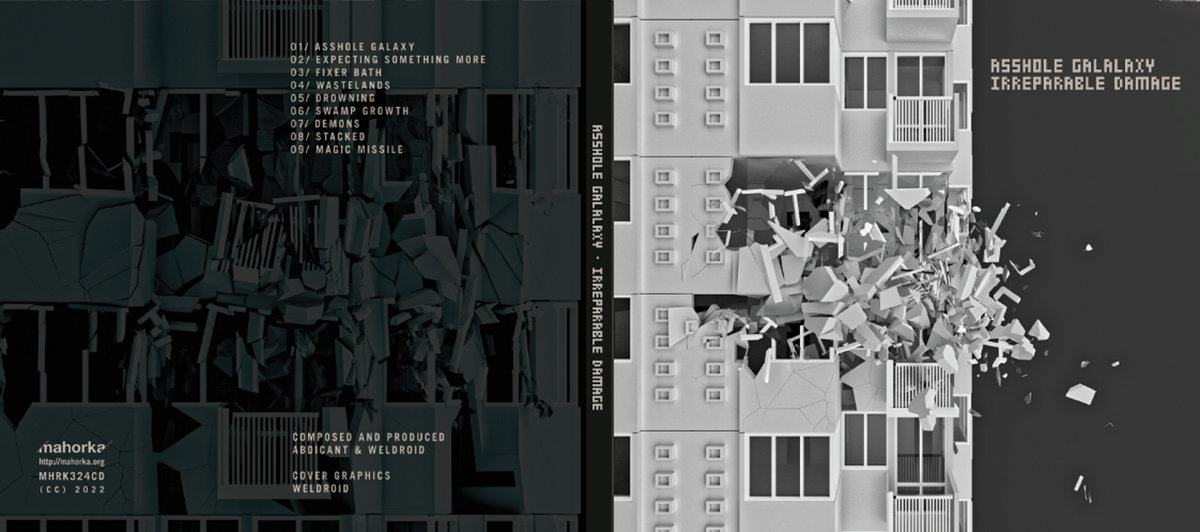 Composed and produced by Abdicant and Weldroid
Cover artwork graphics by Weldroid
[mhrk324]